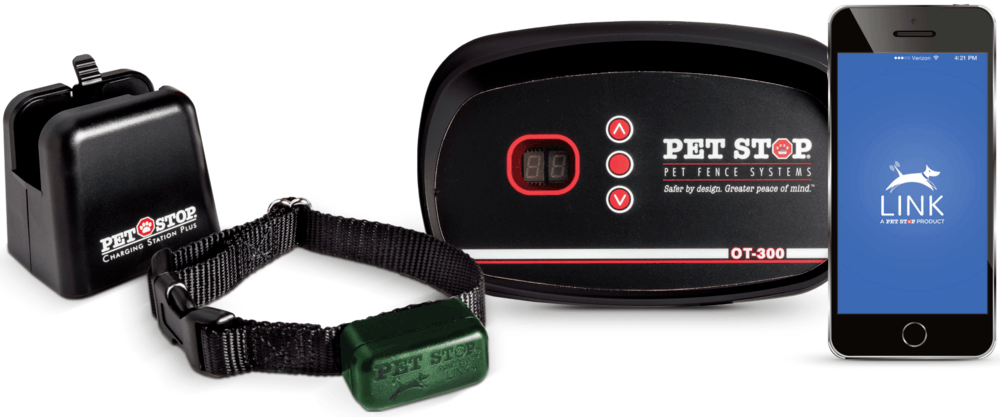 ---
CT Pet Fence – Serving Connecticut Since 1990
We keep your pets safely at home with Made in the USA from imported components Pet Stop® underground, hidden fencing products.
All Pet Stop® products are Made in the USA from imported components. Our products are built with only the best available materials and use the latest pet fencing technology, ensuring that you're getting a quality, reliable product that will keep your pet safely and humanely contained while allowing them the freedom to roam your property. Many of our products are multi-brand compatible and work with Invisible Fence® systems!
Made in the USA from imported components
Our Commercially Manufactured System Really is Superior — giving you Complete Assurance that your pet will be Safe and Secure. Our system includes a Computerized Receiver weighing in at only ¾ Ounces, Diagnostic, 25 Year Recharging Life, Patented Probes and 100% Water Proof, a Digitally Designed Transmitter produces a Signal Field Stronger, More Accurate and Faster than AM or FM Transmissions. Pet Stop Brand is, "Safer By Design for Greater Peace of Mind" Providing Best-in-Class Manufacturer's Warranty called ULTRA CARE™ Lifetime Guaranteed, Transferable, Containment and Electronics Warranty. We will Contain Any Dog on Any Property or We Will Refund 100% of Your Purchase Price!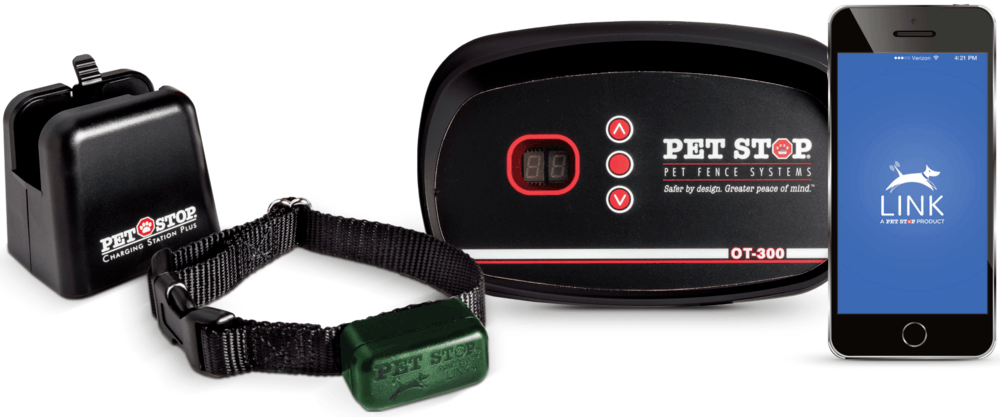 Link Bluetooth Mobile App
---
Imagine a Pet Stop Blue Tooth System that actually monitors your Pet's Behavior and Sends you Notifications on your Smartphone's Link App if a setting needs to be changed, alerts you to your dog's behavior in his fence or that over the next 5-7 days your Link™ needs charging. You make the needed adjustment without a Service Call or having to mail the collar to the dealer's office to make a programming change. No other company offers Technology Like Pet Stop. Link™ is simply amazing. You Control Everything! It's all there at your fingertips.
Learn More
Check Out The Video
---
The Night Light Feature allows you to remotely activate a light allowing you to track your pet at night more easily. A Bright Blinking Light Flashes every 2-3 Seconds! Simply turn your Night Light on before you let your dog out into his Pet Stop Fence and keep and eye on his while his is out in the yard.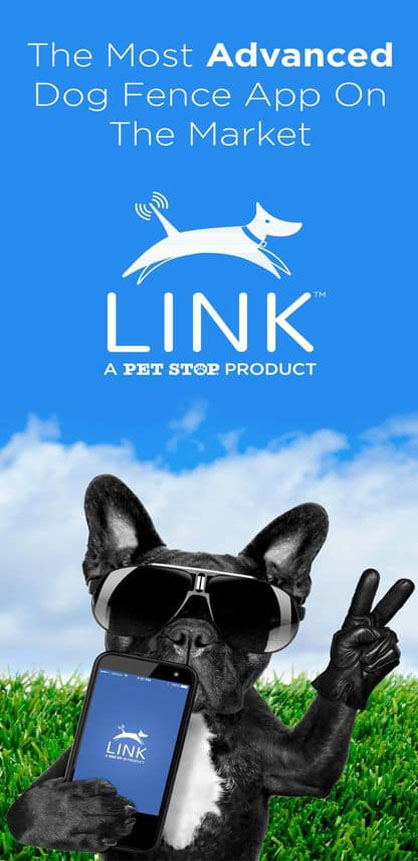 CT Pet Fence is a professional installer of Pet Stop® electric dog fence systems and provides dog training in Northwestern Connecticut, Hartford County and Litchfield County.
As your local electronic pet fencing experts, we offer peace of mind for your pet's safety by providing the most technologically advanced underground pet fence system available from the original innovators of hidden pet containment. Keeping your pet safe and contained in your yard is something we love to do, making both you and your dog's life a happier one!
We guarantee that you'll be 100% satisfied and your pet will be safely contained, or your money back.
Safer By Design Greater Peace Of Mind™
Customer Service, Integrity, Quality Minded



Pet Stop's mission statement is "to install the most technologically advanced electric dog fence in the pet containment industry." The Dog Fence Experts!™
Our team is honest, equipped with knowledge and experience to serve you, and has collectively installed thousands of electric underground dog fences during their years with Pet Stop. We're prepared to answer your questions on pricing, installations and troubleshooting for all electric dog containment systems Including Invisible Fence, Dog Watch, Dog Watch, Pet Safe Brands.
Our promise to you is 100% satisfaction and the best professional installation of your dog fence
Learn More
We would like to extend our outstanding customer service to Invisible Fence® customers. Though CT Pet Fence is not associated with Invisible Fence® we can provide independent support for Invisible Fence®, Dog Watch®, as well as all other hidden electric dog fencing system brands. For Invisible Fence® customers, we also carry Invisible Fence® compatible batteries and Invisible Fence® compatible receivers.
Get Support
Service Areas
CT Pet Fence provides all of Northwestern Connecticut, Hartford & Litchfield county, with professional, custom installations of the most advanced and effective electronic pet fence available today. We also provide expert, personalized dog training for correcting unwanted behaviors.
To schedule your FREE in-home consultation contact us now!
---